Ahead of the upcoming inaugural Industry Gathering, during which he is scheduled to perform, the up-and-coming artist sits down to chat with Trap Culture.
"I do not consider myself a rapper," Pilot Flyin' reveals. "I am a musician, an artist, a visionary." From some performers, such a statement might seem aggrandizing—a braggadocious platitude meant to prop up a reputation built upon less truth than its orator would prefer for you to believe.
However, there's something about the unshakable confidence with which Pilot delivers this declaration that makes it feel as though it's more of a simple statement of fact than an idle boast.
For an artist who has quickly risen through the ranks of the local hip-hop scene—the 28-year-old played his first show only a year-and-a-half ago—there appears to be some veracity to the notion that Pilot Flyin' is chasing down an artistic vision, and he's doing so with a seldom-seen caliber of creative ingenuity propelling his trajectory.
Born Aqil Tweedy in 1993, the Virginia native grew up in and around the DMV region before heading southwest, ultimately putting down roots in 2018 on Phoenix's West Side. He's spent the past four years living in the Valley, steadily writing and publishing music. Lately, the tireless determination with which he's pursued a career in music has begun to pay off.
In February, 2021, the artist opened for Young Deji, of Taylor Gang fame, during a showcase at the Smoker's Club in Downtown LA. In the intervening months he's been hard at work, honing his craft by regularly playing shows and constantly writing new material.
Simultaneously, the young dab hand has been putting out singles with a list of collaborators that includes other Valley hip-hop notables Eli Bands AZ, J We$tt and Whatley's World. In addition, the past year saw the release of Pilot Flyin's first full-length album, a collaboration with Eli Bands AZ called Flight Music. "We dropped [Flight Music] at the end of March … to catch a wave into 4/20," Pilot explains, adding that it was all recorded within two sessions taking place in December, 2021 and February, 2022, at Valley Club Records.
Flight Music features an impressive roster of individuals who had a hand in its production, from Count Slick and ElijahDaProfit to RMB Justize and Ricky P. The album is an earnest offering from the duo, with Eli's and Pilot's hip-hop sensibilities complimenting one another perfectly. This is especially notable in tracks like Honorable Mention and Paper Chase, both of which offer glimpses into the synergistic wonder that abounds when these two are locked in together.
While he enjoys the part he's played in shaping the local hip-hop landscape, Pilot admits it isn't always easy to establish a presence in the scene. "I think here is a unique challenge of catching a buzz and maintaining it," he states, optimistically adding that he thinks "that's kind of changing. With the presence of reggaeton and hip hop together… [it's] really bringing a unique sound to Arizona, and I feel dope to play a role in bringing a sound to Arizona."
When he's not behind the mic as the Valley's "highest and flyest," Pilot can likely be found plying his wares at a local North Phoenix dispensary, where he works as a budtender. This experience affords him an enviable unfettered access to weed, which he lists among his sources of inspiration. "As an artist, I believe that consistency, authenticity, and passion—oh, and I can't forget cannabis—are among very important personality traits and social skills; those are some of the … things that drive me to be creative," he says.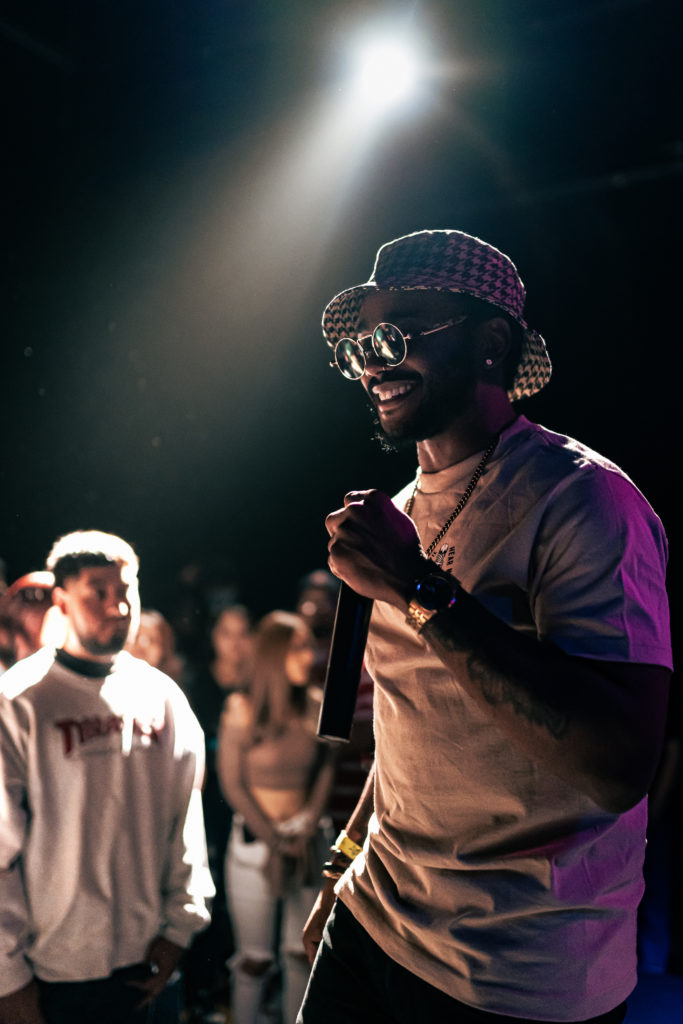 On the subject of cannabis, he elaborates: "Personally, I believe that it has so many different effects on all aspects of entire life, whether it's pain management … relaxation, creativity, just to name a few things." He pauses, adding "…performing wise, being in a Zen state of mind before going on—that intense focus. I think cannabis can play a role in all of the above when you are aware of the benefits it can give you."
Asked what he thinks about Arizona's legalization of adult-use recreational marijuana, he replies "I think [about] the fact that I have seen all the sides of where cannabis has been, [from] being in a space where back in Virginia, at the time of living there, [it was] illegal, to living in AZ and being able to work in the industry making a living."
With regard to his personal preferences, he's hard pressed to pick a favorite method of consuming, deciding "I like to medicate in different ways for different reasons." But, he states, if he had to choose one "daily medication," it would be "flower, 10 out of 10."
As for his favorite strain, Pilot Flyin' suggests that it's the appropriately on-brand "Jet Fuel," when it comes to the strains he's recently smoking; although, "it's impossible to pick one, [there are] just so many different ones."
As far as performing goes, Pilot is always eager to take the stage, using every show as an opportunity to sharpen his skillset and try out new material. He sees the upcoming Industry Gathering event series as a perfect chance to do just that.
He first learned about the series during Trap Culture's Mangia Ganja food and music festival earlier this year. "This last 2022 Mangia Ganga was the first Trap Culture event I'd ever been to." He discloses. "I thought it was a dope set up, ran well; I felt safe and comfortable to medicate with others in a cool networking environment. There [were] live performances that got me excited as an artist, so I reached out to see if they had any future events that needed live music—particularly cannabis-inspired music."
Like Mangia Ganja, Pilot believes Industry Gathering provides "a safe space for like-minded people to medicate." He adds that the environment "gives space to many different types of people to gather information, get educated, or even just connect with an old friend. [There are] so many different ways I think it benefits the overall community—great place to network, medicate, and get educated with a larger community."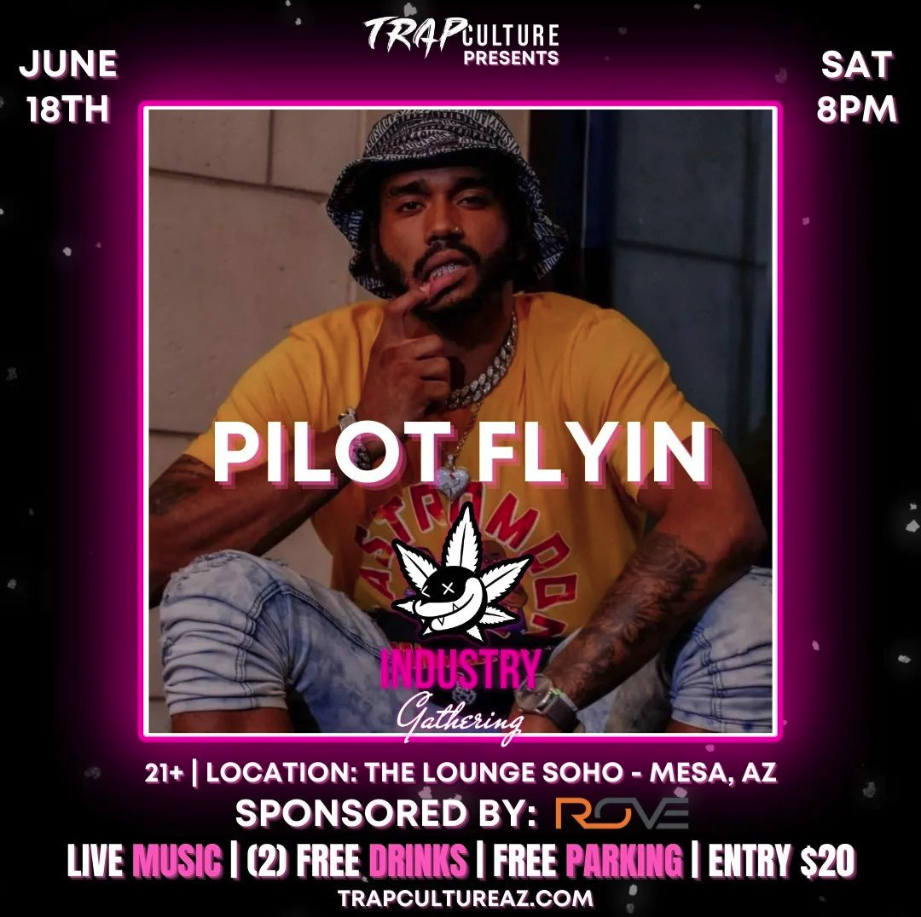 With plenty on the horizon, Pilot Flyin' is looking forward to the future. With new singles "with my boy Henny Lago, Eli Bands AZ, Greg Max" upcoming, and other collaborations with Angello PHX, FLEX and Klutch Paxx, the self-proclaimed visionary is also excited for his solo album, which, in his own words, is "coming real soon."
As for his life outside of music, Pilot is a family man. While he's currently headed for great things in his musical endeavors, he suggests that there are some things that are simply more important in life; things that motivate him to keep doing the work to get to that next level. "I got two daughters that I do everything I do for," he says. "It's deeper than just the music for me."
***
Follow Pilot Flyin' on social media: @Pilot_Flyin
Trap Culture Industry Gathering Details
June 18, 2022
7:00-11:00 p.m.
The Lounge Soho
1457 W Southern Ave #107, Mesa, AZ
To purchase tickets to this event, click here.
If you are a vendor who is interested in being featured during an upcoming Industry Gathering, contact David at david@trapcultureaz.com