Watch the video recap of Trap Culture at MITA's networking event on June 28, 2023, which featured a pool party, live music, giveaways, and more.
Trap Culture was thrilled to attend the Marijuana Trade Industry Association (MITA) networking event on June 28, at Sonder the Monarch in Scottsdale. The event was a massive hit, with thousands of attendees from all sectors of the cannabis industry, including cultivators, processors, retailers, investors, advocates, and consumers.
Attendees traversed the main even space, where a reception of vendors was waiting with product samples and information abundant. Some of these vendors included Eureka, Toasted, Dizpot, JAMS, and Smokiez. Meanwhile additional vendors, Diablo and DIME among them, were posted with dab-bars, samples and swag for event goers enjoy in the special VIP pool party area of the event. Other appearances by up and coming notables Project Packs and their bags of potent prerolls, and BestBudz AZ who had fire flower of their own, made the event an especially memorable evening.
The event also provided an opportunity for attendees to network and exchange ideas well into the Southwestern summer night. Guests from all walks of life could be heard discussing the latest trends and innovations in cannabis cultivation, such as digital tools, artificial intelligence, genetics, and sustainability. They also addressed some of the challenges and opportunities facing the industry in Arizona and beyond.
The event was not only informative but also fun and interactive. There were giveaways, raffles, and live music by some of the hottest artists in the scene. Trap Culture was there to capture the vibe and energy of the night with our Instagram live stream. Our host Ajee was on the scene with her bubbly personality and witty questions.
She went from vendor to vendor bippity-bopping around, getting the skinny on all the latest happenings in the world of cannabis. She also interviewed some of the attendees and speakers and got their insights and opinions on the cannabis industry and culture. Ajee also had a chance to showcase some of the products and services offered by the exhibitors and sponsors of the event.
As always, we had a blast at the MITA event and we want to thank them for inviting us and hosting such a great event. We also want to thank all the people who participated in our live stream and shared their stories with us. We hope you enjoy watching our video recap of the event as much as we enjoyed making it.
If you want to learn more about MITA and their upcoming events, you can visit their website at https://mita-az.org/. If you want to learn more about Trap Culture and our premium cannabis events, you can visit our website at https://trapcultureaz.com/. And don't forget to follow us on Instagram for more live streams like this one.
Trap Culture is your source for everything cannabis-related in Arizona. We are here to educate, entertain, and elevate you with our content. Stay tuned for more updates from us and keep it trappy!
Don't miss out on our YouTube recap, and our Instagram Live from June's MITA event. Watch now and see what you missed or relive the fun!
---
Plunge into the Ultimate Summer Escapade! Buds and Bikinis is an unmatched cannabis pool party Phoenix will never forget!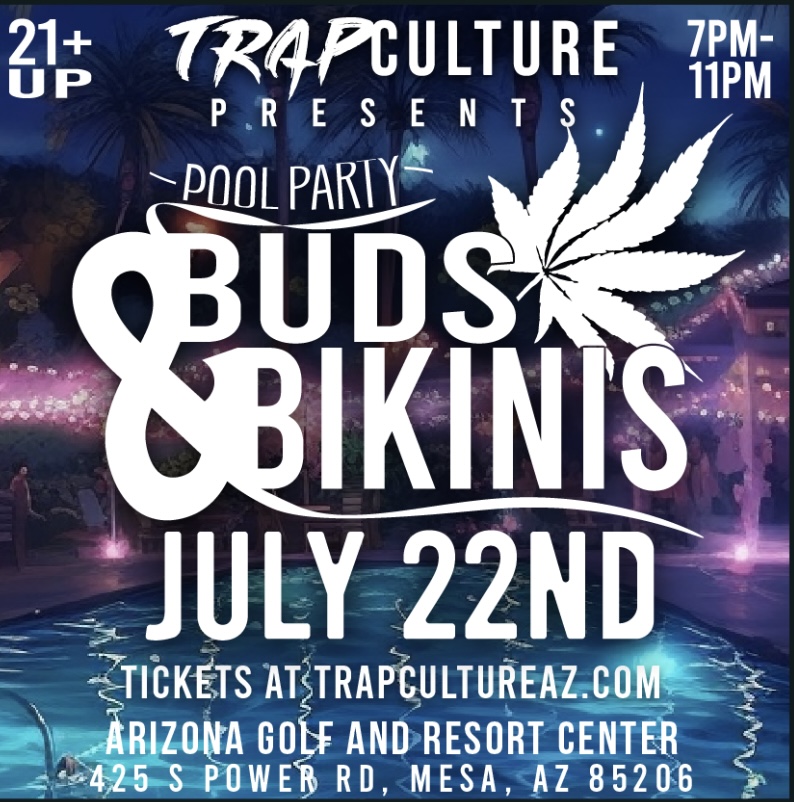 Buds and Bikinis is a cannabis pool party series hosted by Trap Culture at the Arizona Golf Resort & Event Center in Mesa, AZ. The event features live music, food, cannabis products, prizes, and more. The event is for adults 21 and over, and takes place on July 22nd, August 26th, and September 23rd from 7pm to 11pm. Tickets are available NOW! Come and enjoy the summer vibes with fellow cannabis lovers and have a blast!