A look back at the 'Holy Trinity of Pool Parties' with some highlights and a look a look at what's ahead for Trap Culture beyond the Buds and Bikinis series.
The summer of 2023 in the Valley will forever be remembered for the sensational Buds and Bikinis pool party series. The three installments, which took place in July, August and September were full of unforgettable fun and celebration. All of this resplendence left an indelible mark on the Arizona cannabis community. But it was more than just a party; it was a celebration of diversity in all its forms.
Each installment of Buds and Bikinis was a unique masterpiece, transporting attendees to a realm of sheer bliss. The events were a canvas painted with the vibrant colors of cannabis culture, featuring an assortment of experiences that left everyone grinning from ear to ear with that once-illegal smile. Attendees from all walks of life came together to share their love of cannabis and enjoy a night of fun and celebration. The event was a true testament to the power of the flower to bring people together from all walks of life.
As as the crowd began to file in, it was time for the stars of the show, our beloved vendors, to shine. Collectively, they transformed Buds and Bikinis into the wonderland of cannabis treasures that makes Trap Culture's events so special. Imagine the stickiest, stinkiest buds generously sampled out to partygoers from all walks of life. The aroma alone was enough to ignite spirits and set passions ablaze, uniting people in a shared appreciation for the plant.
The medicated food and drinks were a culinary adventure that catered to a wide range of tastes and dietary preferences. Each bite and sip led to a journey of pure bliss, celebrating culinary diversity and innovation. It was cannabis cuisine at its finest, a testament to the creativity and craftsmanship of these cannabis maestros.
Buds and Bikinis wasn't just about celebrating the different facets of cannabis culture; it was also about showcasing the latest and greatest in cannabis innovation. Vendors displayed a wide range of products and services, from traditional flower and edibles to cutting-edge concentrates and vaporizers. The diversity of offerings mirrored the diversity of the attendees, giving everyone the opportunity to explore new products and learn about the latest trends in the cannabis industry.
The event was a testament to how cannabis has the power to bring innovation and unity to the industry. From traditionalists who cherished the art of rolling joints to tech-savvy enthusiasts exploring the latest vaporizers, Buds and Bikinis accommodated a diverse spectrum of cannabis preferences. This diversity in consumption methods only emphasized how cannabis brings people together.
Buds and Bikinis was more than just a celebration of diversity and innovation; it was also a boon for the local economy. The event brought thousands of people to Phoenix, supporting local businesses and generating tax revenue. From accommodations to dining, attendees contributed to the vitality of the city, highlighting the economic significance of cannabis events like Buds and Bikinis.
But beyond economics, Buds and Bikinis built a sense of community among its attendees. It was a space where the love for cannabis, music, and good company converged into an experience that transcended words. The event was a testament to the power of cannabis to create connections and lasting friendships, regardless of backgrounds or beliefs.
As we look back on the trilogy of Buds and Bikinis, our hearts are filled with gratitude for each and every one of you who joined us on this extraordinary journey. We share in the joy, laughter, and memories you created with us, and we eagerly anticipate the day we can do it all over again. Buds and Bikinis – the trilogy of bliss – has etched its mark on Phoenix's cannabis culture, and we can't wait to see you again for the next adventure.
Thank you for being a part of this incredible journey. We'll see you next time, as we continue to celebrate the diversity, innovation, and unity that cannabis brings to our community.
And speaking of next time, be sure to join us for our city night life event, coming up Saturday, October 28th, from 9 p.m. to 1 a.m.
From summer pool parties to saucy autumn nites, Trap Culture is proud to present CROSSFADED! While those familiar with our past Trap Nights series will know just how incredibly successful our nightclub themed event has been, nothing can prepare you for a night of fun and games, not to mention, Halloween festivities (costume contests, prizes etc.,)! Join us at EndGame in Mesa for a spectacular celebration of cannabis and the cannabis community! Tickets available at: tinyurl.com/trapcrossfaded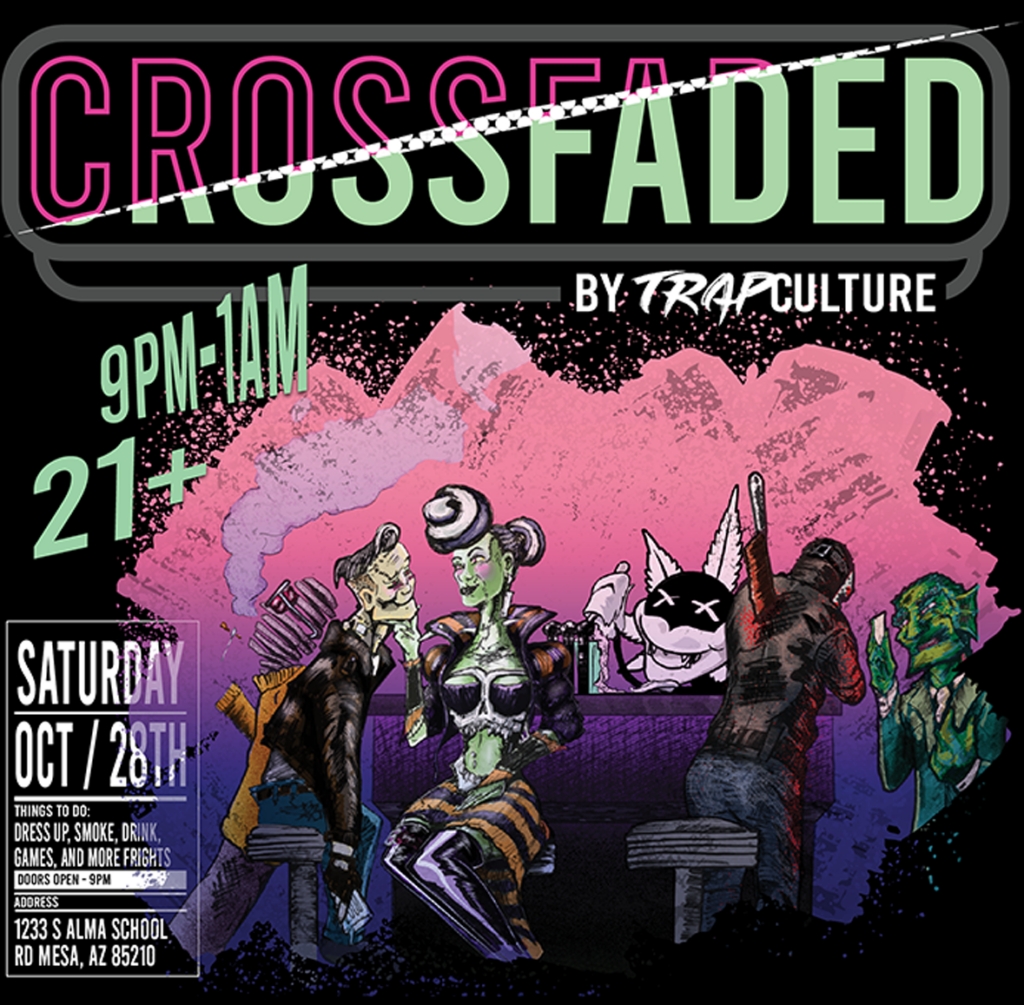 ***
Let us extend our gratitude to our fellow cannabis vendors and contributors who helped make these events possible:
Bud Bros
Big Bud Farms
Sauce
Verano / Savvy
High Grade
El Blunto
Bold Behavior
Seaside
Caviar Gold
Alpaka Infusions
Sip Elixers
Shango
Moss
Keef Cola
Tonic
Leafers
Pura Earth
Co2lors
BreezeCanna
House Exotics
MINT

VIP Gift Bag Contributors:
Flav
Dime Industries
Space Rocks
Defi Edibles
LunchBox
Smokiez
Co2lors

Additional Thanks to our Food Vendors!

Molo's-TACOS
Savage Thurst Trap
The Stoner Grill
Olianes Food
Spicy Sassy Dulces
Rock N Rolled Ice Cream
King's Mini Pancakes
A Baked Sale
Big Mamma's Desserts
Copper Kettle Corn
480 Burgers/ Ducky cheesesteak
Chip wrecked
GG's Kitchen-SOUTHERN BBQ
Flying Cow Freeze Dried Candy
Mi Amore Pizza
Elleans Kitchen
Pan Loco
American Top Hotdog
The Wet Clam
Antojitos Snacks
The Vegan Joint